With the Christmas Spirit in the air and the holiday cheer being spread all around. We really want to take a moment to sit back, drink a nice warm latte, and appreciate our short time with Christmas decor. For me, the cozy night lights scattered around the home, casting light onto our favorite spots in the home gives me all the feels. The twinkling lights, glowing orbs, and the classic Holiday tunes. There is nothing like coming down the stairs, to the the warm light of a christmas tree! The smell of pine and winter scented candles… I could quickly break into a Christmas song here I am sure, but what I am trying to say is Christmas decor at night is cozy at its finest!
We have been so busy this holiday season already that I admit I'm really behind on just about everything. Tonight I went to a musical with family after a very rushed day. I feel really guilty and weird saying this… but I'm all about being honest… I really didn't feel like going tonight because I was so busy & I wanted the night to catch up, but I went & oh my I'm so thankful I did because I got to spend a night with family & then the most magical thing happened when I got home…. Jose started to put our Christmas decor up. Well, we had already started a tiny bit, but I cam home to our tree put up and some lights out. He is good. I felt so relaxed and cozy the instant I walked in and saw those lights and the Christmas decor. That's why this is what I wanted to share with you guys today on the blog. I didn't want to wait to share it when it's perfect, clean, & complete. This cozy moment with the glow and everything simply cozy and not perfectly staged is the moment I think we all need to relax and live in. I hope that this season these glowy views keep you relaxed among all the busy upcoming holidays. Enjoy this little glowy tour of the start of our front living room Christmas decor today….
I hope you enjoyed a little evening walk with us here at the farm… I know you all get me when I say there is nothing like night time during the Christmas season. If you are stopping by from Tidbits, Thank you so much. Be sure to check out So Much Better with Age afterwards for some more beautiful Christmas spaces. Thank you so much for stopping by the blog today and every other day, it truly means the world to us over here on the Farm! xx
Today's Posts: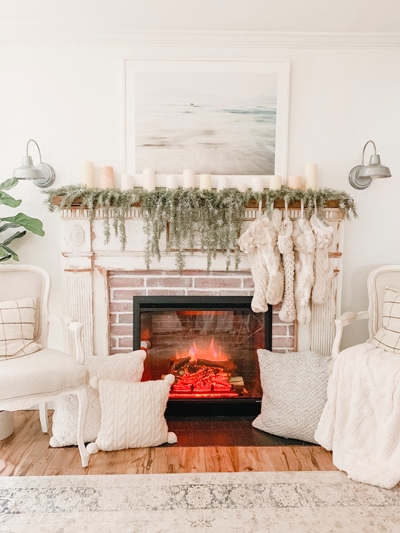 Lauren McBride
And if you missed yesterday's posts, you can get to those by clicking the links below!
Thursday's Posts:
Maison de Cinq | Boxwood Avenue | Ella Claire | Rooms for Rent | Maison de Pax | Farmhouse on Boone | Thistlewood Farms
Friday's Posts:

Miss Mustard Seed | Love Grows Wild | Tidbits | Liz Marie Blog | So Much Better with Age | Mountain View Cottage | Lauren McBride